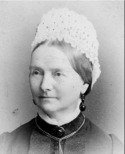 Christening
15 September 1821, St Giles and St Mary Magdalene, Stoney Sratford
Death
13 February 1893, Wolston, Warwicks.
Spouses
Marriage
4 May 1848, Parish Church, Stoney Stratford

Birth
1823, Mill Lane Gate Without, Coventry8
Christening
31 May 1823, Coventry, Holy Trinity10
Death
25 September 1898, Avonthorpe, Wolston
Occupation
3 April 1881, Princethorpe, Warwick, Farmer 525 acres7
Occupation
Farmer at The Manor House, Princethorpe 525 acres
Marriage
15 June 1852, Wolston, Warwicks.
Notes for Lucy Lucas LEWIS
Widow of John Phillips a farmer. After being widowed she continued to farm with her brother William Lewis at Farm House Brandon Grounds. They employed 7 men and farmed 190 acres.
Witnesses at the marriage of Lucy Lucas to John Phillips wereThomas Harris Lewis, M.B.Garrett, Silma(?) Phillips and Mary Ann Lewis (Lucy's sister).